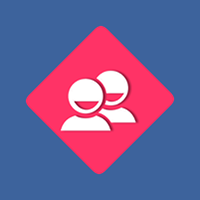 Random Contact App
This is a hobby Android project that enables its users to see a random contact from their contacts list, and provides a method to contact them. The app also has an option to create and manage custom contact groups to generate a random contact from.
The project started out as an experiment and now has been downloaded more than 1000 times.
A fresh coat of paint
The previous version, "Random Contact 3" was designed based on the Google Material Design guidelines from 2017.
Since then the design guidelines have evolved along with better theming support, as well as dark mode became easier to implement.
Design Approach
Armed with the powerful Adobe XD to design and wireframe, we started out with a basic wireframe of all the flows required for the app.
As always starting with the wireframe is the best approach to capture all the essentials for the UX.
There were some shortcomings of the previous design such as "Custom Group Management" being hidden underneath a hamburger menu.
Mocking Up
Moving away from the colorful and Card style design to a more modern and streamlined design had been the plan.
The colors of the icon are used carefully as accents in the interface.
The toolbar was cleaned up in the final design along with the bottom navigation bar.
Dark Mode
The latest Android design guidelines and resources make it quite easy to provide users with light and dark themes. The light theme mockup was used as a basis to design a dark variant theme.
Ashirbad Das
Best random contact app ever. It's so beautiful, it makes my eyes water.
eFeet eFeet
It fulfills its objective. Very good app, it fulfills what I was looking for LOL !!.